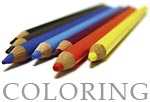 EQUINOX
A Coloring Book by Stephen Barnwell

(2016) 8.5 x 11", softcover, 124 pages, 56 images
Printed on high quality 70 pound paper stock

Artist's Edition
with publisher's discount:
$10.99
That's $2.00 cheaper than Amazon!

(PLUS $3.99 SHIPPING, U.S. customers only)
Books can be signed upon request.

EQUINOX INTERNATIONAL EDITION
available only on Amazon:


ISBN 978-0-9913216-3-6
Bronze Medal Winner
in the 2016
Living Now Book Awards
Equinox is a coloring book that takes you on a journey into a storybook fantasyland filled with wonder and mystery.
A coloring book that tells stories.

Equinox is a word that means a balance of opposites: day and night, sun and moon, waking and dreaming. EQUINOX is a journey through an annual cycle, the four seasons, but it is also an exploration of life's journey.
A coloring book that will be fun for the beginner, and still challenging for the advanced colorist, EQUINOX will give you many hours of relaxing and meditative pleasure. It is a collection of 52 full-page illustrations, sorted into four chapters: Spring, Summer, Autumn, and Winter. Every image in Angelikon is 100% hand drawn by the artist, and is printed one-side-only for better coloring and easy removal.
Dare to enter the world of EQUINOX.
"This coloring book is spectacular!
It is everything that a great coloring book should be."
-- The Coloring Club
"It's everything I hope for in a coloring book and more."
-- The Coloring Addict


Stephen Barnwell has been an artist all his life. He has worked professionally as an artist and illustrator, his work published in books, magazines, and gaming products. He is best known for his work in the CCG games, Heresy, Kingdom Come, and Mythos. His artwork has been in over 70 exhibitions in galleries and museums worldwide, including the Palais de Tokyo Contemporary Art Museum in Paris, the Lahti Art Museum in Finland, the Marin Museum of Contemporary Art in California, and the Andrew Kreps Gallery in New York City. His work is in private collections in 51 countries around the world.

Copyright © 2016 Stephen Barnwell