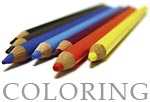 D R E A M T I M E
A Coloring Book by Stephen Barnwell

2016, 6 x 9", softcover, 64 pages, 25 images
Printed on quality ivory paper stock

$6.99


<! insert paypal form here>

ISBN 978-0-9913216-5-0
Meditate on your dreams as you color.
DreamTime is a companion coloring book and workbook of Stephen Barnwell's popular Oneirognosis, The Art of Dreaming. DreamTime contains all 24 of the mystical and iconic illustrations from Oneirognosis, each accompanied by a poetic and lyrical excerpt about dreaming and working with your dreams. The images are printed on one side only, so you can record your dreams on the other side. DreamTime is a perfect companion book for those who have Oneirognosis and love to color.
This convenient, travel-sized book measures 6 x 9" and is great for coloring while commuting, flying, or on vacation. DreamTime is beautifully designed with exotic fonts and printed on ivory paper to evoke a feeling of antiquity and arcane knowledge.
Dream in color.
A Sample Page from DREAMTIME

Every page has an iconic image and a quote from Oneirognosis, a thought provoking journey into your dreams.

All the text was written by Stephen Barnwell, who has over 30 years of experience in dreamwork and study. Barnwell's artwork also reflects and incorporates his decades of research into symbolism and iconography.

This unusual coloring book will stand out in your collection as something truly unique. It may also help you to discover some of the secrets hidden inside your dreams.

| | |
| --- | --- |
| | |
Stephen Barnwell has been an artist all his life. He has worked professionally as an artist and illustrator, his work published in books, magazines, and gaming products. He is best known for his work in the CCG games, Heresy, Kingdom Come, and Mythos. His artwork has been in over 70 exhibitions in galleries and museums worldwide, including the Palais de Tokyo Contemporary Art Museum in Paris, the Lahti Art Museum in Finland, the Marin Museum of Contemporary Art in California, and the Andrew Kreps Gallery in New York City. His work is in private collections in 51 countries around the world.


Copyright © 2016 Stephen Barnwell